Scarlatti
Do you want to take a short walk and enjoy the atmosphere of Leiden? Restaurant Scarlatti is the place to be. Scarlatti is, despite what the name might suggest, not an Italian restaurant. The restaurant is named after composer Giuseppe Domenico Scarlatti who lived in the 18th century. Restaurant Scarlatti is a well-known restaurant in the area that has an extensive menu and a large sunny terrace with 140 seats.
Pipa Streetfood Bar
Do you want to enjoy lunch or dinner close to your hotel? You don't have to search very far! The restaurant Pipa Streetfood Bar is across from the hotel and offers a delicious lunch and dinner menu. Street food is literally ready-to-eat food that is sold on the streets. Street food can be found worldwide and the flavors of every dish are therefore unique and characteristic. At Pipa Streetfood Bar, all these flavors and cultures are served together with a bit of comfort.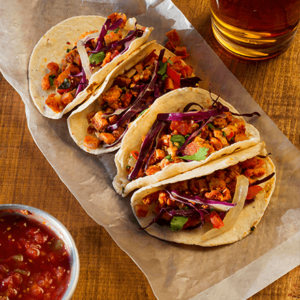 Lab071
Another great option is Lab071. This restaurant is located in a former anatomical laboratory of the University of Leiden. The restaurant is distinctive in their way of preparing food. They'd like to show the guests that the consumption of meat (and fish) doesn't necessarily has to be the main thing. Lab071 therefore focusses on the use of vegetables.