Are you looking for a place to host a meeting, lunch or dinner in a historical monument?
Boutique Hotel d'Oude Morsch has recently opened a conference room. The conference room is located in one of the historical city gates of Leiden.
It is a unique location, because of its excellent position at the bustling heart of Leiden's city center. The conference room has all today's modern comforts available: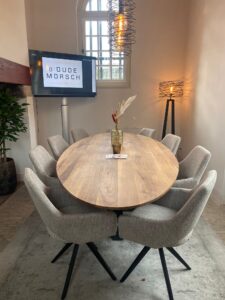 👥 Suitable for 8 persons
🌐 Free Wi-Fi
📺 Television screen with a HDMI connection and Chromecast
☕ Coffee and tea facilities
🥤 Water and other chilled drinks
Here you can find more information about all possibilities and prices.